Background

Inspired by friends Al & Marcy Felice from Trinidad, we began exploring the Carnival tradition in the West Indies and experiencing the magic of their exquisite public spectacle. Could the synthesized elements from African, East Indian and Caribbean cultures help us inject new vitality into American public art?
We were deeply moved by the large scale 'dancing mobiles' of Peter Minshall, the internationally acclaimed 'mas' man.
Could these giant puppets, orchestrated by performers adorned in costumes that transform their slightest movements into superhuman actions help us to speak the simple language of the heart and call us to become more fully human? Could we use Carnival techniques to create public art that calls with the urgency of our times? Could we bring the authentic spirit of theatre and communion into American streets and synthesize something more from the sum of our disjointed parts?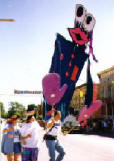 Andy Pizer built a prototype to experiment with in Wisconsin and then we went to Trinidad to learn from the greats.
The Peace Pilgrims are the beginning of our exploration and the seeds for future large scale public art events. Designed and constructed by master artists in Trinidad, West Indies, they represent the Native American spirit that calls us to honor our land and each other. Our gratitude extends to Greig Steiner, Pascal Ramkissoon, Herbert Dash, Geraldo Virra, Colin Cameron, Rosalind Gabriel, Peter Minshall and all the people of Trinidad who have served to inspire us and act as cultural liaisons and artists.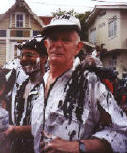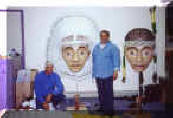 TOLL FREE: (800) 280-2304

THE MILLENNIUM GROUP

Millennium Group
Andy Pizer, Proprietor
970-663-1200 Fax: 970-292-1024
Toll Free: (800) 280-2304 Fax: (800) 335-9151


Web Hosting & Design provided by The Millennium Group - www.MillenniumWebs.com
Copyright © 2004 [The Millennium Group]. All rights reserved.