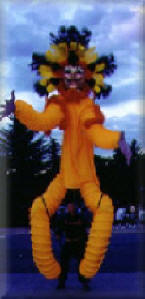 The Peace Pilgrims

Giant Puppets from Trinidad, West Indies
The Peace Pilgrims are giant 24 foot puppets that have made their pilgrimage from the island of Trinidad, West Indies
where the tradition of Carnival serves to celebrate life and remind us that "all ah we is one".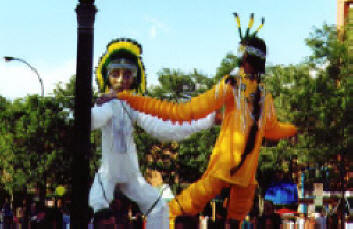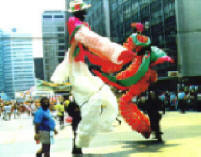 The Peace Pilgrims represent the power of the mask- the power to think in larger terms than our small lives.
Their presence fosters the conditions of peace by bringing people together with powerful imagery,
music, energy and collective celebration.

TOLL FREE: (800) 280-2304

THE MILLENNIUM GROUP

Millennium Group
Andy Pizer, Proprietor
970-663-1200 Fax: 970-292-1024
Toll Free: (800) 280-2304 Fax: (800) 335-9151


Web Hosting & Design provided by The Millennium Group - www.MillenniumWebs.com
Copyright © 2004 [The Millennium Group]. All rights reserved.